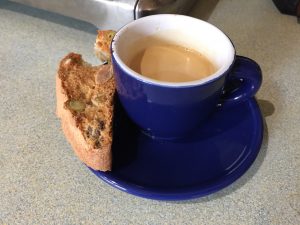 We've been to our secret hideaway in Tuscany a few times in the last several years, and one day I will post some photos, just to make you all jealous. But one of the things that I remember is the cantuccini we get from a little shop in Castiglione della Pescaia. We eat these delicious little bundles of almond and pistachio with the coffee our landlady supplies, and we have not been able to find a quite adequate substitute for either.
Making my own cantuccini has been preying on my mind for some time now, and this afternoon I finally gave it a go. Just as for tiramisu, there are no two recipes alike on the interwebs. And some call for Vino Sante, others call for butter (blasphemy); I even saw one recipe with olive oil. Some have sugar, others don't.
So I decided to make my own. Again.
Caveat: I only had whole, blanched almonds—ideally we'd use ones with the skin still on, but we can't always get what we want. But here's the recipe I made up:
rpg's cantuccini (Italian biscotti) recipe
Materials
Two eggs
3/4 cup (6 oz) caster sugar
1 cup (6 oz) OO grade flour and a little more
1 tsp baking powder
pinch sea salt
1 shot homemade redcurrant gin
zest of a small orange
100 g (1 pack) whole blanched almonds, toasted
3 oz (~1/2 pack) pistachio kernels, blanched for 2 minutes to enhance the colour
Method
Preheat your oven to fan 190ºC or equivalent.
Beat together the sugar and the eggs until light and fluffy, but not too much
Stir in all the other ingredients, the gin going in last
Mix to a dough
Add a little flour if needed so you can handle the dough
Roll/shape/squish into a couple of tubes and lay out on a lined baking tray
Bake for 15 minutes
Remove from oven and stand for 5 minutes. Reduce heat to 170ºC fan
Cut the mound into ~1/2 inch slices
Bake for a further 15 minutes
Jenny tried the end slice before they went back in the oven. It was so good she took another slice to have with her coffee.
These are exquisite. Next time I might add some almond essence to the dough, and try harder to find whole, unskinned almonds.