One bourbon, one scotch, one blog – Part V
Note to self: Preparing another batch of homebrew while you have friends round to taste previous batches is not one of your better plans.
On Saturday I stuck the wheat back into the oven and turned the temperature up to about 50°C for a couple of hours with the fan on full. Then we went out and left it to cool. Final moisture content was around 5%, perhaps a little high but I didn't want to push it any further.
And then the fun began. I spent an hour milling the grain with a spice mill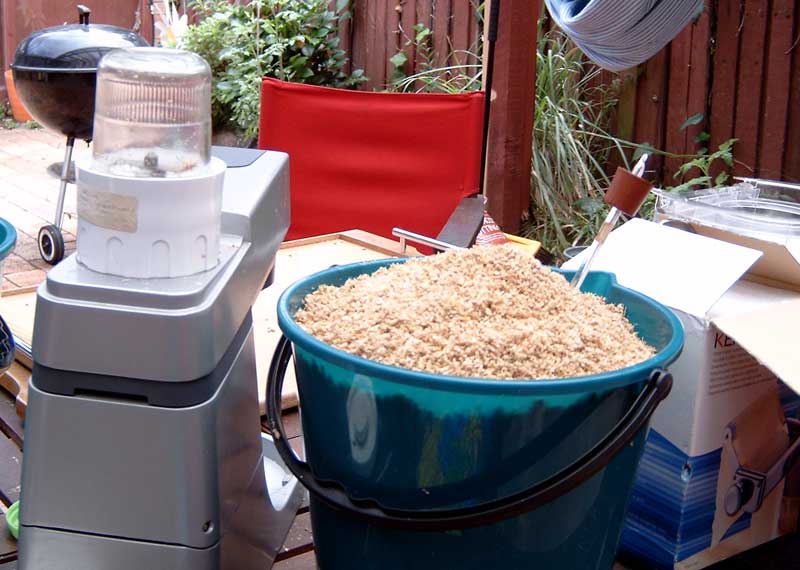 and then soaked it in warm water (52°C) for an hour or so — 'mashing'. Next it was into various pans to bring the temperature up to 68 – 70 °C for the mashing out (meant to be half an hour, but with the aforementioned friends around I think the best we can do is 'indeterminate'):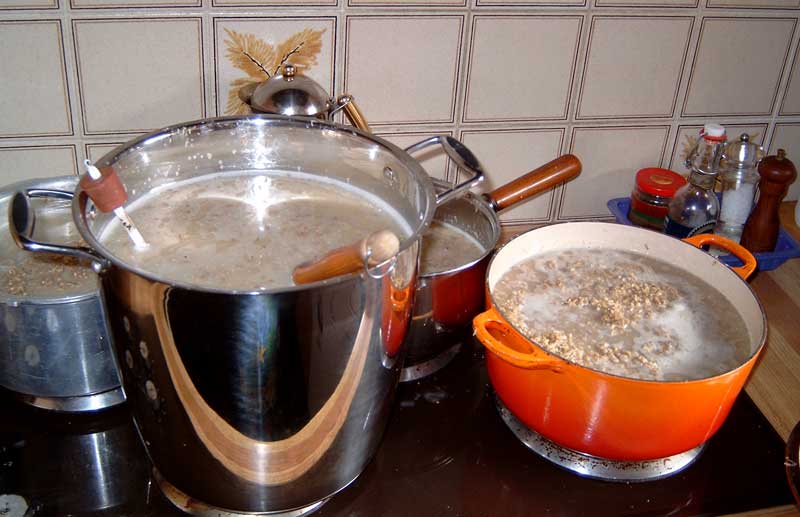 Finally I added Tettnang hops to the big pan and boiled for half an hour, before straining the whole lot into a fermenting barrel, stirring in some dextrose and making the volume up to 23 l with cold water. The mash volume was rather less than I was expecting; I think next time I should squeeze out what I can from the malted wheat and then sparge it with hot water for a second extraction. My starting specific gravity was only 1040 with the dextrose added, so a little low (i.e. the brew is too dilute).
Sunday morning I was a little concerned to find that fermentation had started (small fizzy bubbles at the surface) but when I added the yeast it went completely mental ('vigorous') and today (Tuesday), fermentation is about finished, with SG = 1005. So by the time I've added priming sugar to the bottles, we're looking at 4.5 – 5 % ABV, which isn't too shabby.